Zealsoft can provide all your print media needs. Whether you require a project for business or personal use we can develop a unique design that fits your requirements. You can send graphics or text that you wish to be incorporated via fax, email, disc in any format or just let us know what you are looking for and our creative professionals will go to work on your project.
By incorporating a company logo or personal information in a professional design, you and your business will stand out in the mind of your recipient. Zealsoft provides professional and attractive print media solutions at a competitive price. Our graphic services are ISO 9001-certified, ensuring quality.
Brochure Designing

A glossy full-color brochure, sell sheet or pamphlet is the best platform to showcase your business or product. In the digital world, a 4-color glossy brochure helps distinguish "real" companies from "wannabe's.

Brochures can be used to build your company image, promote a product or an event, update product spec's, or for a hundred other purposes.

Brochures come in three standard sizes, 8-1/2×11, 8-1/2×14, and 11×17. An unfolded 8-1/2×11 is often used for product sheets, or tri-folded for a company brochure. Many companies use an 11×17 brochure, folded in half, as an economical product catalog.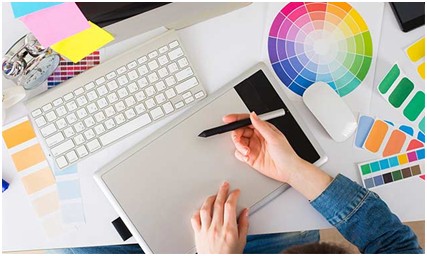 Our Brochure Design Service package includes

Affordable and high-quality end products.

At least 2 custom designs to choose from (more if you need them).

A minimum of 2 designers to work on your unique concepts.

Custom designs — including embossing, die cuts, and unique folds.

Mock ups ready in a maximum of 3 business days (generally 2). Same-day rush service available.
Unlimited revisions, our guarantee. We work on your brochure till you are 100% satisfied.
Standard Brochure Styles:

Z-Fold Brochure Design
Tri-Fold Brochure Design
Double Parallel Brochure Design
Bi-fold Brochure Design
Booklets
Business Card Designing

Your business card is an important aspect of the impression you make on your contact and potential client. A business card should be simple yet classy and professional. It should incorporate necessary contact information and possibly a company logo. Zealsoft can create the perfect business card design that suits your needs and identity. Send us your existing logo or text via email, fax, or disc in any file format or just give us an idea of what you are looking for and let us create a business card that suits you perfectly.
Read More Catalogues