WEB PORTAL DEVELOPMENT
A web portal presents information from diverse sources in a unified way. Apart from the search engine standard, web portals offer other services such as e-mail, news, stock prices, infotainment, and other features. Portals provide a way for enterprises to provide a consistent look and feel with access control and procedures for multiple applications, which otherwise would have been different entities altogether. An example of a web portal is MSN or Google.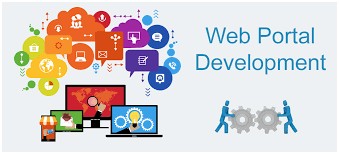 Zealsoft provide you with the very best in web portal design solutions. Our specialized website designers will work with you to optimize the potential your own website will give you. With our web portal design packages chances of going wrong is nil. We also provide our clients with specified web portal development services for a brighter future.
We make your tasks even easier with our web portal development services so that you don't even have to worry about what to do when the situation arises. Our web portal designing ensures that you are satisfied with what we are setting up for you because this will become one of the premier sources from where your portal will be advertised. With the best UK web portal designers at your disposal you will never fall short of better ideas in case to up gradation too.

Some Common Website Portal Features
User authentication (log in and password)

Personalized content views; where the user can modify the content displayed on the portal homepage to match his/her specific interests.

Personalized navigation tools, e.g. 'quick links' to frequently accessed information pages directory-based information structure

Community-building tools: e.g. bulletin boards, emailing lists, etc.

Subject specific search: e.g. synonym-matching, industry-specific etc.

Technologies We use .Net
MS-SQL
HTML
XML
FLASH
AJAX
ASP
XTML
PHP